Drone Precision Tournament
The Drone Tournament has re-launched!
On June 8-10, 2022 join us in Helsinki, Finland, for an amazing competition to precision control drones over land and sea.
Made possible by Ultrahack
Winners
The winners of the Drone Tournament 2022 are:
Stara Last Mile Logistics Challenge: Jannet (Janne Rajala & Janne Illkainen)
U-blox / Septentrio GNSS Landing & Navigation Challenge: Jannet (Janne Rajala & Janne Illkainen)
Telia BVLOS 5G Challenge: DR1 4 5G (Antti Lipasti & Marko Saikkonen)
Challenges
There are 3 challenges you can choose from to participate in, selecting just one or any combination of the 3:
The Stara last-mile logistics challenge asks teams to deliver critical materials to a boat, simulating real-world delivery needs. Packages will be retrieved on land and delivered to their target on the sea as a final destination. Teams are advised that the boat is metallic, which will add a layer of challenge as this may impact on compass and radio. The landing pad on the boat will be 3m x 3m and elevated 0,8m from the metallic deck.
Septentrio/U-Blox will provide GNSS services teams can use to increase performance as they land on the moving boat. To help improve performance, Septentrio/uBlox will provide access to data streams from a base station on the shore and on the boat. The streams will both provide raw observations in RTCM3 format via NTRIP (which can be used to compute an RTK position of the drone) and the stream from the boat will also provide position, heading and speed of the boat over an IP connection in NMEA or binary format. Using these streams can help to obtain an RTK solution on the drone or to know the relative position between the drone and the boat.
The Telia BVLOS 5G challenge aims to control flight BVLOS operations using video stream while controlling the drone over the Telia 5G mobile network. Teams get points if they locate the boat, more points if they fly on the top of it, and even more points when they land on it. Teams will be awarded points for innovative use of 5G, and are advised that they can have back up systems ready to take control in case 5G is not enough to meet their objectives.
In all challenges, teams will receive points for their performance, timing and accuracy.
Safety is everything during the tournament. Teams will earn extra points based on the safety procedures and operation professionalism.
Note: Every team must have a geofence in use for risk mitigation. Coordinates are: 601138N 0245108E - 601121N 0245147E - 601056N 0245037E - 601104N 0245015E - 601107N 0245014E - 601138N 0245108E
Registration Deadline: Registration for this event is now closed. You are welcome to attend the event as a spectator! See below for the event schedule.
Resources
A workshop with mentors will be hosted to ensure you are ready for competition day. You can participate in multiple challenges or just one, so start preparing your strategy now!
SDKs and libraries will also be provided to help improve your performance.
Prizes
Prizes for the tournament include a 5.000€ cash prize pool, cool gear from U-Blox and Septentrio, 5G phones by Telia, and of course a lot of fame and visibility. (This is the first drone tournament ever to ask participants to land on a moving boat -- be one of the first to pull it off!)
Challenge Webinar
Ultrahack organises an informative webinar for interested participants to get familiar with the challenge and participate in Q&A.
The Drone Tournament 2022 webinar took place on 2 May, 2022 at 18:00 EET.
Tournament Schedule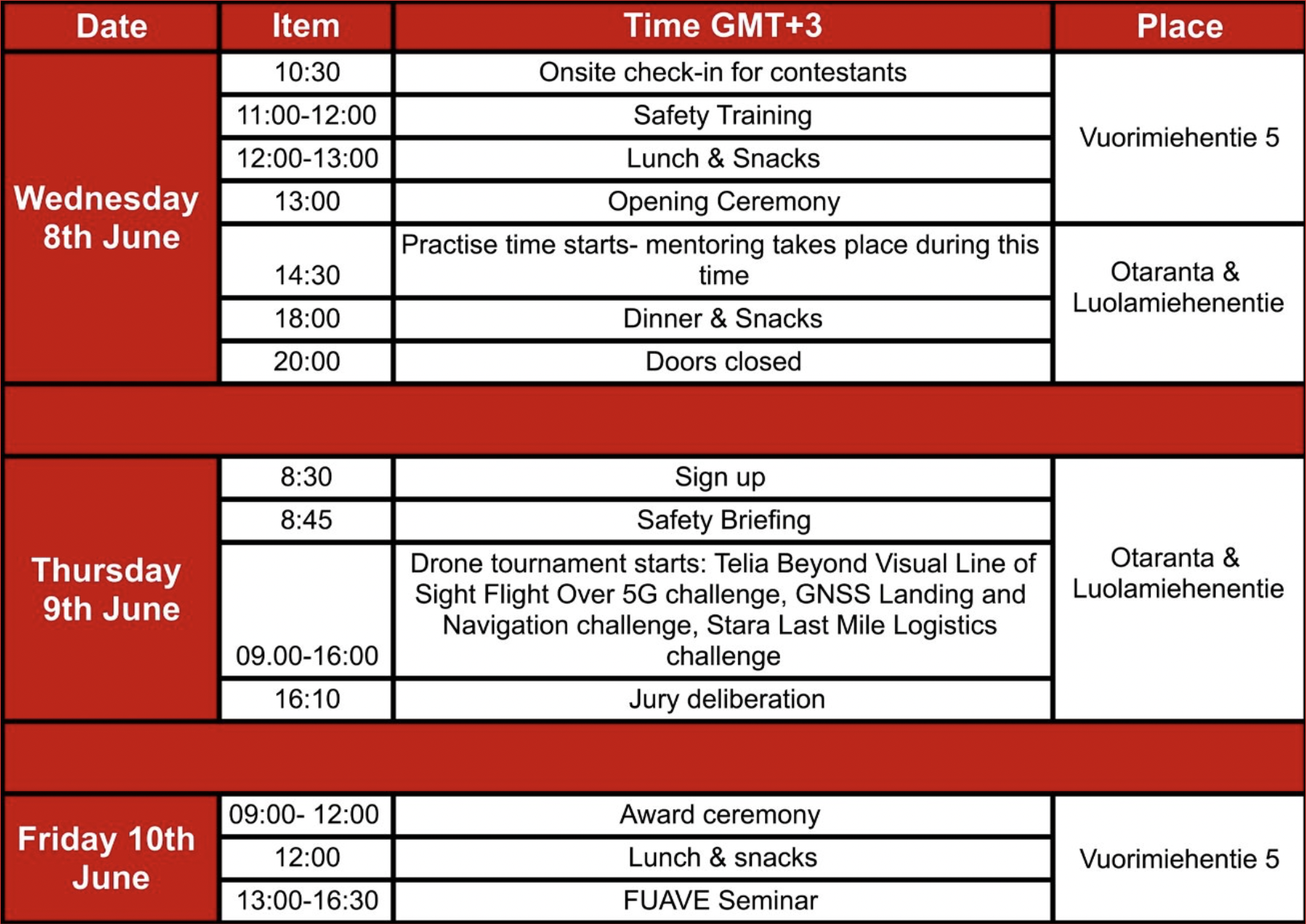 General audiences are invited to join us on tournament day! You can watch from the beach at Otaranta from 9:00-15:00 on Thursday, 9 June, for the most action. We advise bringing a water bottle, sunscreen, and a blanket to sit on for the best experience. We will also stream up-close footage from the boat landings to dronetournament.org.
Partners
We are proudly to present the best partners in the drone & UAV industries, who are bringing their technology and knowledge together to make the Drone Tournament happen.